The Rossoneri star has been impressing on the pitch but also off it as his girlfriend reveals she wants to spend the rest of her life with him and she has already laid down the objectives for next season.
"Pato is my future and I want to spend my life by his side," Brito told Brazilian magazine 'Contigo'.
"I want to have four children with him because I come from a big family and I want to have a big family too.
"I want to get married in church as this has always been my dream."
Pato has been scoring on the pitch for Milan now it's time to do it off the turf.
Brito has risen to fame for her acting roles but, most notably, for her appearance in Playboy magazine when she turned 18.
Meanwhile, Milan are just one point off the top of Serie A following their 1-0 win over Atalanta on Sunday night, thanks to Kaka.
Salvatore Landolina
A deflected goal from Xabi was enough to see Rafa Benítez's side rack up a victory over Luis Felipe Scolari's charges.

After 86 league games without tasting defeat at Stamford Bridge, something finally gave as Xabi's deflected effort silenced the home crowd.

After that early goal the Reds went on to remain the better side for the most part, and Pepe Reina was given relatively little to do between the posts.

That was largely down to a spirited defensive showing from the Scousers that endured in the face of sustained possession from the hosts.

On a rare break forward, in fact, Liverpool managed the lead. With Chelsea dithering over a clearance after an offensive throw-in, Xabi Alonso attempted to rifle the ball past Cech. His shot lacked conviction, but Bosingwa's body deflected it so that the helpless 'keeper could only flail at it with his legs.

Chelsea tried their best to build from the back, but time and again their moves broke down on the edge of the area, allowing the likes of Gerrard to respond with swift counters that saw Cech tested with long-range efforts.

Further back Mascherano and his back four were looking increasingly comfortable as Chelsea ran out of ideas heading into the second half.

Still, Chelsea had the occasional spell of dominance that called for physical play from the visitors. As early as the 22nd minute Riera had picked up a merited yellow for hacking down Bosingwa, and Reina, too, could have joined him in the book for bringing down Malouda, but the Blues' forward was already offside.

Both sides made their changes in an attempt to inject life into their play, Babel replacing Keane to hold the ball up and run onto counters while di Santo and Belletti replaced Kalou and Malouda.

This had the desired effect for both sides as first the Reds came close with a low drive from an Alonso free-kick, and then an increasingly frantic Chelsea created a chance of their own. Ashley Cole inexplicably fired off-target after Di Santo directed Lampard's cross towards him for a golden opportunity.

Although Liverpool started to panic a bit and defend deeply, they may have known in their heart of hearts even with ten minutes to go that they'd done enough, and the match ended 1-0 in their favour.
2008 Oktober 11
Chelsea
have began a legal battle against Lyn Oslo and their former chief executive Morgan Andersen to recoup the £16million transfer fee they paid for midfielder John Mikel Obi.
The move follows the criminal conviction of Andersen by a Norwegian court last March for falsifying documents in relation to Mikel's sale in June 2006 for which he was given a suspended one-year jail sentence.
Chelsea claim the entire transfer deal was based on the "fraudulent misrepresentation" that Mikel had an employment contract with Lyn and are now demanding their money back.
Mikel was at the centre of a major row at the time with both Chelsea and Manchester United claiming to have agreed to sign the Nigerian.
The dispute dragged on for more than a year and was eventually settled when Chelsea agreed to pay £16m in compensation - £12m to United and £4m to Lynn.
The club,however, stressed today that their refund claim is against Lynn and Andersen and has nothing to do with United.
Spot the difference: John Mikel Obi was paraded in United shirt before he changed his mind and signed for Chelsea
A Chelsea spokesman said: 'The club have issued a claim at the High Court in relation to the transfer of Jon Obi Mikel.
'The claim is against FC Lyn Oslo and Morgen Andersen and follows the criminal conviction in Norway of Lyn's former Chief Executive Officer Morgan Andersen.
'At the time of the transfer, Chelsea, Lyn and Manchester United agreed that the fees paid would be in final settlement of the transfer, any claims related to it and that no further action or comment regarding the transfer would be made.
'Chelsea has written to Lyn to make clear that because the transfer was based on a fraudulent misrepresentation, now proven by a court of law, the settlement previously agreed is not binding.'
After a slow start, Mikel has emerged as a key player at Stamford Bridge and has cemented a first-team place this season in the absence of Michael Essien.
English football may be feeling the burden of an estimated £3billion debt, but that doesn't stop free-spending Barclays Premier League clubs dominating in the transfer market.
An analysis of the world's biggest deals from the summer transfer window shows half of the top 20 were completed by English clubs, with the deadline-day captures of Robinho for Manchester City and Dimitar Berbatov for Manchester United leading the way.
3 - Daniel Alves
(Sevilla to Barcelona) -
£26m
4 - Danny
(Dynamo Moscow to Zenit St Petersburg) -
£24.3m
5 - Ricardo
Quaresma (Porto to Inter Milan) -
£19.5m
6 - Robbie Keane
(
Tottenham
to
Liverpool
) -
£19.5m
7 - Jo
(CSKA Moscow to Manchester City) -
£19.5m
8 - Amauri
(Palermo to Juventus) -
£18.5m
9 - David Bentley
(Blackburn to
Tottenham
) -
£17.8m
10 - Ronaldinho
(Barcelona to AC Milan) -
£17m
Barcelona midfielder Alexander Hleb admits he has been trying to persuade former Arsenal team-mate Cesc Fabregas to join him at the Nou Camp.
Spain international Fabregas vowed earlier this week that he would one day like to return to Barca, the club he left to join Arsenal in 2003, and for Hleb that day can not come soon enough.
The way things were: Cesc Fabregas and former Gunners team-mate Alex Hleb
Hleb moved to Barca this summer after three seasons at the Gunners, and the Belarus ace would be delighted if the highly-coveted Fabregas followed suit.
Hleb said in El Mundo Deportivo: "We get on very well on and off the pitch. For me he is like a brother. We call each other a lot to talk about things.

"He tells me he misses me at Arsenal and, without wanting to detract from anyone, I would love it if he came to Barca to be a part of all this.
"I don't stop insisting that he should return to Barca and he doesn't stop insisting that he is very happy at Arsenal and with Arsene Wenger.
"I will keep boring him until he changes his mind. If in the end he listens to me, I think it would be great for Barcelona."
Roman Abramovich has lost £12billion on the Russian stock exchange, it was revealed today.
The Chelsea FC owner has seen his fortune shrink as Russia's Micex Index has gone into freefall.
The decline in value of two of his companies on the Moscow-based index, steel maker Evraz and mining company Highland Gold, has left the 41-year-old tycoon £11.9billion worse off.
It comes just four days after details emerged of the £200million super-yacht Abramovich is having built - set to be the largest private yacht ever constructed.
The massive bill for the boat amounts to just a 60th of today's gargantuan losses for the Russian oligarch.
Abramovich's woes come on a disastrous financial day for London's Premiership football clubs, with the owners of Arsenal and West Ham also suffering from the effects of instability in the markets.
Arsenal's part-owner Alisher Usmanov has lost £7billion on the Micex index, which has declined 61 per cent since its peak in May.
West Ham's Icelandic owner Bjorgolfur Gudmundsson also said he may sell the club after losing £230million.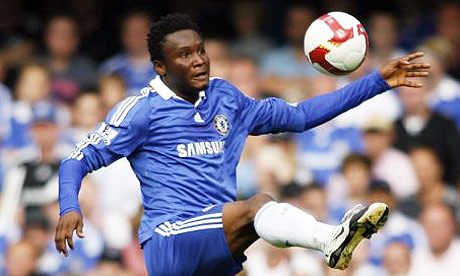 Chelsea have issued a high court claim for £16m against the Norwegian club FC Lyn Oslo and their disgraced former chief executive, Morgan Andersen, over the controversial purchase of John Mikel Obi, though there seems little prospect of the Premier League club being able to recoup all the money they paid for the Nigeria midfielder.
Mikel arrived at Stamford Bridge in 2006 in a complicated deal that saw some £4m paid to Lyn Oslo and £12m to Manchester United, who believed they had originally signed the player on professional terms. However, Andersen was convicted in an Oslo court earlier this year of forging contracts relating to Chelsea and Mikel, which enabled the Norwegian club to gain a slice of the player's transfer fee. Chelsea duly informed Lyn that the deal was based on a fraudulent misrepresentation that the player had an employment contract at the Oslo club and that they would seek full repayment.
Chelsea have privately stressed that they are not attempting to put Lyn Oslo out of business, and it appears unlikely that the Norwegian club, currently mid-table in their domestic league, would have the funds to pay anything close to the £16m compensation demanded. With that in mind, the two clubs are involved in "positive discussions" in a bid to reach some kind of compromise over the case, the pursuit of which has fast become a point of principal for the Premier League leaders.
Although Chelsea are technically seeking the return of the entire fee, the most likely result will be an out-of-court settlement between the clubs, given their willingness to maintain dialogue. "The claim is against FC Lyn Oslo and Morgan Andersen and follows the criminal conviction in Norway of Lyn's former chief executive officer," said a Chelsea spokesman. "It is for the entire £16m fee paid by Chelsea for the player as it is now clear, following Andersen's conviction, that the transfer was based on the fraudulent misrepresentation that Mikel had an employment contract with Lyn.
"Chelsea has written to Lyn to make clear that because the transfer was based on a fraudulent misrepresentation, now proven by a court of law, the settlement previously agreed is not binding. Chelsea is in contact with Lyn and looks forward to working positively with them to resolve the claim promptly. Chelsea would like to make clear that this legal action is against Lyn and Morgan Andersen."
That reflects the reality that Manchester United, who declined to comment, are not involved in any way in Chelsea's pursuit of the money they paid two years ago. Indeed, Chelsea are not intending to involve their Premier League rivals in the high court case. However, this should prove the final twist in a saga that infuriated Sir Alex Ferguson who, along with United, had been convinced that Mikel was bound for Old Trafford rather than Stamford Bridge some two years ago.
Mikel claimed to have signed a youth contract with Lyn in 2005 but, within a week, United announced they had agreed to sign him on professional terms at the end of the Norwegian season in January 2006. The player was even photographed wearing a United shirt, only for Chelsea also to claim to have reached an agreement to sign the player. That prompted United and Lyn to report the London club and the player's agents, John Shittu and Rune Hauge, to Fifa and it was not until June 2006, some 14 months after the saga first flared up, that Chelsea agreed a compromise deal to pay both Lyn and United for the player's services.
That decision was made on the basis that Mikel was under contract in Oslo, the reality of which was dispelled when Andersen — the chief executive at the Norwegian club at the time — was convicted of making false accusations and fraud over the agreement that apparently existed between his club and the midfielder. He was given a one-year suspended sentence after a court decided the professional contract Mikel subsequently denied ever signing and which committed him to the club actually carried a signature cut out from the amateur agreement to which he had previously been tied.
for
here